The mouth sores. The pesky, little bumps on your little one's hands and feet. The fever. The long, long nights. The Googling and trying to find some kind of relief.
If any of that rings a bell, then you're probably already familiar with Hand, Foot, and Mouth Disease (HFMD). It's a not-so-fun time for our kids and just as uncomfortable for us as parents. There is nothing worse than the feeling of not being able to completely comfort your child.
Hand, Foot, and Mouth is very common. The chances of your kid experiencing it are higher if they are in childcare. But worry not, I'm here to help!!
What Is Hand, Foot, And Mouth Disease?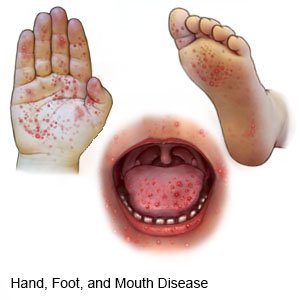 It sounds scary, but it's actually not a serious illness. It's common in kids under 5 years old, but actually anyone can get it. In fact, I know a mom who got HFMD from their son! It's very contagious and spreads pretty quickly at daycares and schools.
The virus spreads by respiratory droplets, touching contaminated surfaces, and from person-to-person contact. It's more common in the Summer and Fall in the US, but you can get it any time of year.
Symptoms
The most common things you'll see if your kid has HFMD is a fever, mouth sores, and a skin rash. The rash will be on their hands, feet, and mouth but can also be found around the diaper area, knees, and elbows. These symptoms can hang around for 7 to 10 days.
fever – usually a few days after they get the virus
eating or drinking less than normal – due to sore throat or mouth sores
sore throat
overall feeling unwell
Not sure if your kid has mouth sores? They will likely only want to drink cold stuff and drool more than usual. You can also check their mouth. The sores start off as little red spots then progress to blisters.
Treatment
You can take care of HFMD at home with some over-the-counter meds. An important thing is to make sure you are keeping your child hydrated, especially while they're running a fever.
According to the CDC, you should see a healthcare provider when:
Your child is not drinking enough to stay hydrated
Symptoms do not improve after 10 days
Your child has a weakened immune system
Symptoms are severe
Your child is very young, especially younger than 6 months
For more information on medication doses, check with your kid's health care provider.
Prevention
Just like other viruses, there are some things you can do to help prevent catching HFMD. Washing your hands with soap and water for at least 20 seconds is a major prevention technique.
Always wash your hands:
after changing a diaper
after using the restroom
after blowing your nose, sneezing, or coughing
before and after taking care of a sick person
If you don't have access to soap and water, using an alcohol-based sanitizer works, as well.
Additional Tips From Personal Experience
My youngest kid had HFMD. I did some extra things to help prevent it from spreading to my daughter, husband, and me. These extra steps may also have helped my son recover faster, who knows.
I washed all clothes and blankets that came in contact with my son while he was sick. I washed them on the hottest cycle and added baking soda per usual.
I made a cleaning solution of 9 parts water and 1 part bleach. For example, 1/4 cup of bleach with 2 & 1/4 cups of water. I sprayed down surfaces and disinfected with this spray for several days.
I made sure not to keep his skin moist to help dry out the bumps.
A lot of ice and cold drinks helped soothe his mouth and fever.
Soft and gushy foods made it easier for him to eat.
Nights were ROUGH, so be prepared for naps during the day.
Alternating Motrin and Tylenol for fever helps.
We applied a cream called Sudocrem after the bumps dried out. Calamine lotion would be similar.
Again, this is from my personal experience. I am not a doctor.
Get Some Rest and Wait It Out
At the end of the day, some rest and time will help the virus pass. Try to keep yourself fed and hydrated, as well. Take care of you so you can take care of your kid.
Find anything that especially worked and helped? Comment below. And be sure to subscribe and use the links right below to share this with all of your parent friends!