Whether it comes from Target or can only be found on your doorstop in a brown box with a smiling arrow; there are some products we just can't live without. I've made a little list of some of the top 5 beauty products you should at least try once.
And then you can put them on autoship.
1. CeraVe Facial Cleaners, Moisturizers, and Body Lotions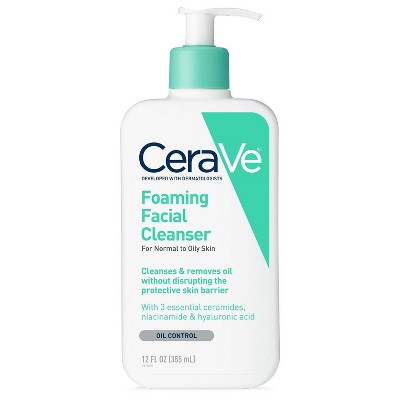 Oily. Dry. In between. There's something for everyone. I wash my face with CeraVe every day. I have an oily face, naturally. This helps me get off any makeup I may have on and clean the oils without completely drying me out. If you're looking for a new daily face wash, it's worth a try.
After you have your face all clean, you need to properly moisturize. It's so important to keep your skin moisturized and healthy, that's how you keep those ugly ass wrinkles away. If you shower in the morning, follow up with the AM moisturizer. Shower at night? Yup, grab the PM moisturizer. They are both lightweight and don't have a greasy feel.
Don't forget about your body! Lather yourself up with some ultra moisturizing CeraVe body cream. Just be prepared to rub on yourself throughout the day (or be rubbed on by someone else), because your skin will feel awesome.
2. Press On Nails
Hear me out…
I know you might be thinking, "Hell no! I have never and will never wear press on nails." And that's fair, but…
Ever had an unexpected meeting or date or event to attend and your nails are all jacked up? Press on nails will freaking save you. I typical sit and do my own gel nails with a UV light, but I've grown quite a love for my press ons. You can either glue them on or use the stickies. I actually love the stickies! I can peel and stick on a full set in about 5 minutes, and that's amazing when I really only have 3 minutes and 27 seconds to myself each day.
Look at some of these really cute styles for only $6 or $7 a box. Each box typically has 30 nails in it.
You can get up to 2 weeks wear out of them. I think they're great to switch up your nails styles whenever you want without all the hassle.
3. Magnetic Eyelashes
I absolutely LOVE when I have fake lashes on, don't you? They just make you feel so glam and extra gorgeous. You can literally not wear any makeup and only wear fake eyelashes and look like you're camera ready all day. My least favorite thing, though, is dealing with removing them.
It's a got a damn hassle.
That's why magnetic eyelashes are so clutch. They use a magnetic adhesive that you apply like liquid eyeliner. Then grab your lashes and that snap on!
If you're concerned about the lashes blowing away in the wind, don't fret. I have tried several brands, and they all gave me all-day-wear. The ends of them would start to come off a little bit sometimes as my super oily face deteriorated at the end of the day. That definitely shouldn't stop you from trying them. Looking extra fabulous from 8AM to 7PM is still a win. You can always just dab a little of the eyeliner to stick them back again. Removing them is as easy snatching them off and washing your face.
4. Facial Beauty Roller
Ok, I'm late to the facial roller trend party, but at least I'm here! And you're with me, so it's practically a date.
Not sure what a beauty roller is? I wasn't sure at first, either. Here are some key benefits according the Healthline:
Improves blood circulation in the face. Using a face roller can stimulate blood flow to the face, which can make your skin look brighter and feel firmer.
Helps with stuffy sinuses. Some studies suggest that using this tool may help clear the sinuses, though the research is still in the early stages.
Decreases puffiness. Rolling may also decrease puffiness (like hard-to-handle under eye bags) by stimulating lymphatic drainage.
Cools and soothes your skin. If you store your roller in the refrigerator or use a naturally cold stone like jade, it'll cool the skin on contact. This can quickly de-puff your skin and tighten pores.
Distributes skincare product. Rollers are typically used with an oil or moisturizer to help the tool glide across your skin. It's said this process can deliver product deeper into your skin.
Give it a try, you might like it! Anything that supports relaxation and amplifying natural beauty is a bad bammajamma.
5. Electric Eyebrow Hair Remover
You've probably seen plenty of people raving about these things since the pandemic. I'll admit, I'm one of those people. I absolutely love it! I have only gone to a nail shop a handful of times in the past 2 years. It's been a game changer being able to clean up my brows with this thing.
I do pluck and arch my eyebrows on my own, too. Sometimes I just don't have the time and patience for the full-on grooming. Instead, I grab this and just clean up the wildness that has taken over my face. In face, brb, let me go charge it…
[dramatic pause]
…Ok I'm back, phew!
So anyways, it doesn't hurt or pull on your hairs. I use it on my brows, weird hairs on my cheeks, and my super aggressive chin hairs. I'm not ashamed! It doesn't completely get rid of the full follicle because you're not plucking it out, but it does a great job cleaning my face up.
And voila, the beauty secrets are unveiled!
I hope this was helpful, if anything, or a fun read while you're escaping from your kids. Or on the toilet. Come back for more beauty tips plus much more! Organization, cleaning, beauty, life and family tips, decor, and wellness- I do it all, baby! Enter your email address below so you never miss my latest posts ❤